Roofing Contractor
Your roof is vital to protecting your home from the elements. In addition to keeping water out, your roof also protects your property from high winds, debris, and even fires. Keeping your roof in good condition is something that many homeowners struggle with as they don't know what to do
Expert Residential Roof Repair
Too many people suffer the cost of a premature roof replacement. Neglected roofs are more likely to have repair problems and will wear out more quickly. This means you may find yourself replacing your roof at 7 to 10 years when it should have lasted between 15 and 20. If you are looking to get the most out of your existing roof, you will want to focus on keeping your roof well-maintained and in good repair. Scheduling seasonal inspections and making repairs as soon as possible is vital. By paying close attention to your roof and being aware of the signs of a repair issue, you can expect to enjoy your existing roof's full lifespan.
Signs you need roof repair include:
Water staining inside your home, especially on ceilings, walls, and in your attic or crawlspace
Visible damage to your roof's exterior, including loose or missing shingles and damaged or rusted flashing
Gutter problems, such as frequently clogged gutters, or gutters with holes and tears in them
Moss or plants growing on your roof
Wildlife roosting in your roof, attic, or crawlspace
Sagging spots on your roof, or areas that are collecting water
An unexplained increase in your heating or cooling costs
On average, a residential roof will last for around 15-20 years. Even the most well-maintained roof will require replacement at some point. This is because your roofing materials will degrade over time. Winds, rain, snow, temperature changes, and UV rays from the sun all contribute to the breaking down of your roofing materials.
Roofing Installation
Getting a new roof can be both exciting and overwhelming. Roof installation is a big project and represents a significant investment in your property. You want to be sure that the contractor you hire is professional, trained, and experienced. Whether you are working on a new construction project, remodeling your home, or replaced a damaged roof,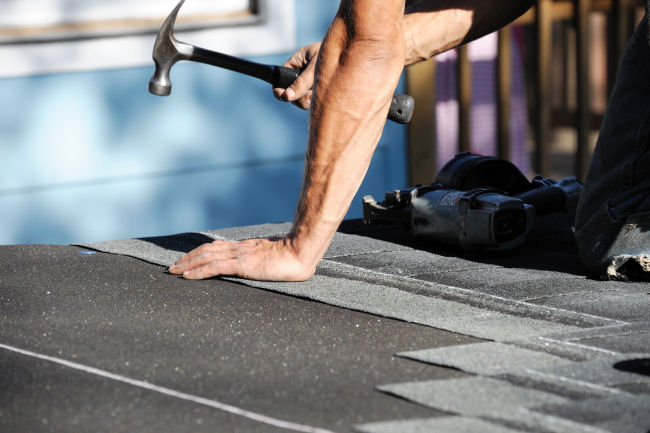 HAND NAILING VS NAIL GUN: WHICH ROOFING INSTALLATION METHOD IS BETTER
WHICH IS BEST FOR ROOF SHINGLE INSTALLATION – HAND NAILING OR NAIL GUN?
This question can be argued both ways and both can be correct. The simple answer is. It all depends on the man or woman holding the hammer or air gun and how they use it. Since asphalt shingled roofs are the most popular residential roofing materials used
Do-It-Yourself Roofing (DIY)
Most do-it-yourselfers will purchase their shingles and never think about how to fasten them to the roof. Most think that nailing the composition shingle with a hammer is the only way. Did you know there are tool rental stores the will rent air compressors and nail guns for your roofing project? Is it worth the money to rent?
Most professionals use pneumatic nail guns and air compressors. There must be a reason why. It is speed. A nail gun is a tool that has a magazine or tray that stores the fasteners. One by one these fasteners are driven through the asphalt shingle and into the roof deck by a supply of air.
A compressor needs to have a continuous supply of air pressure to do this, which is about 90 – 120 PSI depending on the nail gun in use, roofing products used, thickness of roof deck, and the temperature of the time of day. The fasteners should have enough power to drive a nail into the roof deck 3/4 of an inch or through it to meet manufactures specifications and local codes.
PROS AND CONS OF HAND NAILING AND NAIL GUN ROOFING
Speed without experience is not good thing. Using a fast nail gun can be dangerous and does not insure a good roof installation. I see it all the time. Nails not places correctly WILL cause roof failures and this is very common with nail guns.
Give your home a fresh start with a new roof installation.
One of the best things you can do to add lasting value to your home is to install a new roof. Rest easy knowing your home, and its resale value, is secure for years to come
There's no time like the present to choose Sheegog Contracting for your new roof installation.
Depending on the product you choose, your new roof can last several decades
Superior Process With Accountability
Every roofing project is assigned a dedicated project manager to guide you through every step of the process. We'll review choices, provide you with options, and back our work with a warranty.
Family Owned and Operated
Contracting is family owned and made up of local homeowners just like you. As our customer you'll always know what to expect and can rest assured you'll get the highest quality service at the right price.
Contracting's team of local roofing professionals can complete your project with ease.
Roof replacement
Roof installation
Roof repair
Storm damage
Commercial roofing
Best Practices for Metal Roof Installation
When it comes to durability and energy efficiency, there is no better option than metal shingle roofs and standing seam metal roofs. There is a huge demand for them because of this. Those who install metal roofs are in high demand. It's good to brush up on the best practices for metal roof installation so that you can ensure the best possible roof for your customers. Here are a few things to keep in mind.
Use Top Notch Equipment
As you install the metal roof, you need to ensure that all of the equipment you are using is specifically made for the roof panels that you are installing. If you are looking for high quality fasteners, snips, clips, or more, have a look around our site. We feature only the highest quality equipment and tools for metal roofers.
Hiring the Right Roofers
You'll want to ensure that everyone working on the metal roof is properly trained for the job they are doing. Installing a metal roof is not a simple process, and it's essential that anyone involved knows exactly what they are doing. When doing the hiring, make sure you hire those who have enough experience for the job at hand. There are even some roofing manufacturers that will offer installation training for roofers to take advantage of.
Using the Right Hand Tools
As you know, after your metal panels are in place, metal clips are used to secure them. They are spaced according to engineering and construction needs. Hand benders and seamers are then typically used in the process of installation. It's important to ensure that your roofer pays particular attention to this part. Improper hand-tooling is the most usual cause of a leaky metal roof, caused by faulty installation.
The most crucial things to consider when installing a metal roof is the quality of the tools and equipment that are used and the knowledge and skills of the roofer. If you are looking for quality metal roof installation professionals, there are many places you can turn to. For example, you can look into local apprenticeships or co-op work term opportunities. You can also get your current employees to refer other employees to you. The possibilities are endless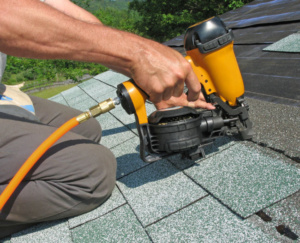 THINGS TO CONTEMPLATE BEFORE A NEW ROOF INSTALLATION
Roof Ventilation
In order to ensure the longevity of your new roof, you need proper ventilation. Having good ventilation will also improve attic temperatures and lessen moisture retention during the winter. Ridge vents and gables can be included in roof replacements.
Energy Efficiency
While wanting everything to look great is okay, energy efficiency could save you money. Roof inspections have shown that materials that don't absorb heat easily are better at keeping your home cool. The right materials for roof replacements could lead residents to more substantial savings in the long run.
Gutter Maintenance
Choosing a gutter that is seamless helps residents to avoid emergency roof repairs. If you choose a gutter which requires eaves or gable overhangs, you're setting yourself up for a potential problem. Water leaking will cause an emergency roof repair residents.
Chimney Cap
Chimney caps are not often thought of, even though they are very cost effective. Their purpose is to help a home retain heat and keep precipitation out. It also keeps rodents outside. When you are receiving a roof inspection, ask the professionals about a chimney cap.
Eave Flashings
If you are looking for the final touch on your roof replacement, contemplate installing eave flashings. A weatherproof eave flashing does not allow moisture to reach the shingles.