Before and After: Striking Exterior Makeovers
So you love the schools, the neighborhood and the yard, but when you pull up to your house, you don't like the way it looks. But there are aspects of it that you do like, and you can't bear the thought of tearing it down. Often a better solution is a major makeover. It's hard to believe that some of these houses are remodels; in one case, even the tax assessor had to be convinced.
Contemporary Redo Solves Design Problems
BEFORE: Not much about this facade made sense. An awkward pediment seems randomly placed. To the right, a garage had been finished into a room that threw off the proportions. And there's an odd, unbalanced half-hexagon portion off to the left.
AFTER: At first, the clients thought they wanted a more traditional house, but once they saw the opportunities a more contemporary style offered, they were on board.
Working within tight setback restrictions, height restrictions and square footage maximums, Doise came up with a scheme for much more pleasing architecture. She designed a new roofline that incorporated a shed roof and a pop-up roof that allowed for higher ceilings and let more light inside. She squared off the awkward half-hexagon and brought back the garage, with an attractive frosted-glass-paneled garage-style door that's a design asset. She replaced the vinyl siding with fiber cement panels The roof is corrugated metal. And new aluminum-clad windows let in loads of natural light.
She also gave the home inviting curb appeal thanks to a new concrete staircase with integrated planters and lights, a new glass-paneled front door with a generous sidelight and transom, and a new lighting scheme.
Suitable Style for a Former Foursquare
BEFORE: Originally an American Foursquare built in the 1800s, this home's style had become a hodgepodge of confusing historical elements due to additions and renovations over the years.
AFTER: The remodel included new siding that's narrower on the second floor than on the first floor, a new patio that leads to the front door and a new front porch with a balustrade atop it. A new garage with a mudroom entry and game room over it was also part of the renovations.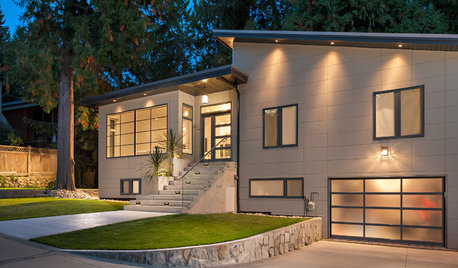 Nice-to-Have Upgrades for Your New Home
When designing a new build with optional builder's upgrades, it's easy to go way over budget. There's so much available, and many of those tempting upgrades may also be expensive. The first order of business, of course, is deciding what you can afford and what you cannot.
If your builder offers a designer, that person can take you through the process of designing your house to your specifications, with the associated costs for your choices. But if your builder doesn't have a designer on your project, you may be left navigating the process on your own — and potentially facing decision fatigue.
Keep in mind that these items are nice to have — not essential. If you're looking for a list of bare-bones upgrades that will save you money or headaches when done as part of the new build rather than later
Extra-height kitchen cabinets. We're all looking for extra space in the kitchen, and sometimes it's best to look up. Your builder's standard upper-cabinet height may be 30 inches, but if you can increase that to 36 inches or even 42, it's worth the upgrade. The height will provide an extra shelf of storage, and the closer you can get to the ceiling the better, for both storage and aesthetic reasons
Pots and pans drawers. Pots and pans drawers are deeper than standard drawers and are perfect for — you guessed it— pots and pans. They're also useful for storing small appliances such as toasters, blenders and coffee grinders. These drawers help you to clear your counters and still have important kitchen items easily accessible. It's typically a modestly priced upgrade and definitely one you'll be grateful for.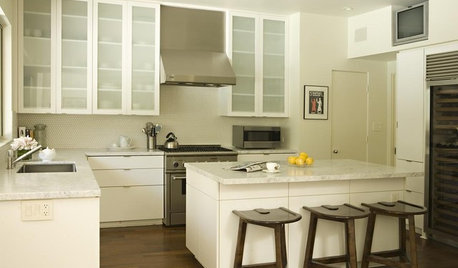 How to Get Your Catio On
It's the dilemma of every cat owner: how to let Kitty enjoy the outdoors without risk of the Great Escape. The outside world can be a dangerous place for a roaming cat, with the threat of predators, cars, poison and diseases. Not to mention the danger to wild birds, which outdoor cats kill in monumental numbers. Catios — or cat patios — are safely enclosed playhouses for felines that provide fresh air, mental stimulation and exercise.
Catios can be as elaborate as a custom-designed feline jungle gym or as simple as enclosing a patio with screening
It's important to make sure catios are escape-proof and include basic feline comforts:
Entry door or window, or walkway or tunnel from the house
Perches, ramps, steps, bridges, catwalks
Post or tree for scratching and climbing
Hiding places
Beds, pillows or hammocks for resting
Fresh drinking water
Shady areas and fans for cooling; heating pad for cold weather
Predator-proof screening, especially if the home is near wildlands with coyotes, cougars or bobcats
Roof or covering to protect from elements
Custom-Built Catios
You can get as creative as you want with a custom-made catio. Some homeowners include ponds, cat-friendly foliage, chandeliers and even lounging areas for the humans. Unless you choose to design and build it yourself, the best pros to include are architects to design the space (unless you use a predesigned kit) and carpenters to build it.
The tree is for scratching and climbing. The screening is two-by-two kennel fencing from Lowe's. Reid used eight four-by-four cedar posts set into concrete-filled holes for the structure, with two-by-two fir beams and rafters. The roof is corrugated steel panels left over from the house construction.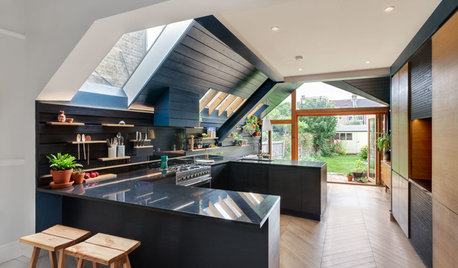 Home Gets a Neighbor-Friendly Addition
row house is a two-rooms-upstairs, two-rooms-downstairs construction that, at some point, had a kitchen added on the back. This house in east London was no exception. "The kitchen was small and very cut off from the rear dining room. Everything felt very closed in on itself,"
This addition's slanting roof design is a clever solution to a handful of issues. "People want plenty of light and space in their extension,"
solution is the best of both worlds. "By having lower eaves on the boundary wall and a pitched roof, you have that feeling of space inside, but to your neighbors, the extension is only about [7 feet] high,"
In addition, the pitched roof looks a lot less harsh than a flat-roofed addition. "The original idea was to be neighborly while also achieving more space, but it looks quite gentle, too, so there are other bonuses,"
A complicating factor of this project was the site's awkward shape, which gets narrower as it heads toward the garden. "With a pitched roof and a tapered site, it was quite tricky,"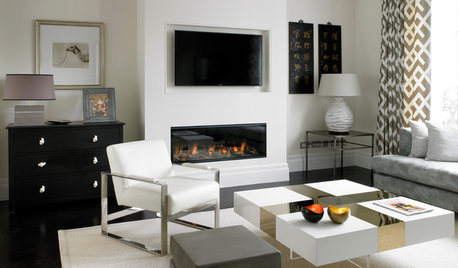 Smart Upgrades for a New House
Building a new home is a pleasure not everyone gets to experience. You get to construct your home exactly to your taste, with the components and finishes you want and can afford. Often you'll be deciding what is worth the money to do now and what you'd prefer to save as a renovation project to do later. There are a number of factors to consider, including how long you plan to live in the home, whether you'll be able to put upgrades directly onto your mortgage or pay out of pocket, and what upgrades are valuable for resale.
Upgrading later by doing it yourself can sometimes be a good plan allowing you to avoid paying the builder's premium. But sometimes waiting will not only not save you money, it will cost you more in the end or create a headache when the upgrade is finally addressed.
The Stairs
Before construction can begin, the builder has to finalize plans and submit them to your city, town or county for approval and permits. Depending on your builder and where you live, this may mean you'll have an opportunity to make some changes to your plan prior to submission. One big element to address now is the staircase. If you're building your home with a production builder — that is, a builder constructing a home development, usually in a suburban neighborhood — the typical builder's-grade staircase is carpet over plywood. Unless you're prepared to rip out the entire staircase later, which is no small feat, now is the time to request solid wood.
Wood staircases come in different varieties, so be sure to ask what your builder offers and at what additional charge. Wood upgrades are usually either oak or maple, which have very different looks. Oak has a heavier grain, while maple is smoother and more subtle in texture. These woods also differ on price, with maple being the more expensive.
Do you want a stair runner? If you're on the fence, then wait. That way, you won't have marks from installing the carpet left in your wood if you change your mind.