Kitchen Faucets
At home, the kitchen is one area to really pay attention to. This is where homeowners find themselves dishwashing, preparing ingredients, cooking countless meals, and storing food and supplies. It's where family and friends gather, and where you can showcase your style while also focusing on practicality and function. One of the very most important things to find when putting together or remodeling a kitchen is the best kitchen faucet.
Finding the best kitchen faucets available can be a challenge. There are features to consider that separate the special faucets from the more mediocre ones. You have to see which brands invest in quality materials for their kitchen faucets, and how well these brands have been reviewed, before choosing to invest in them
So, what should you consider when finding the best kitchen faucet you can? Think about the material, function, certifications, and warranty, among other factors. Checking the material is really important, as it can spell the difference between a long-lasting kitchen faucet and one that breaks down after a few months. The functions of the product should also be considered so that you'll maximize your kitchen faucet usage. Examples of these functions include extendable hoses or multiple spray functions. As for certifications, they're proof that the brand has passed industry standards, be it for safe drinking, water-saving, or having eco-friendly materials. This guide should help you narrow the list of kitchen faucets worth buying.
This lets you turn the faucet on or off with a handwave so that you won't have to manually turn the handle. This would come in handy during times when you have your hands filled with soap suds or grease. The MotionSense Wave can also help prevent children from turning on the faucet and playing with it. This feature would certainly appeal to families or buyers concerned with safety and ease of use.
Having a sprayer that lets you wash in different ways is useful because there are assorted objects that need washing or water any time. If you need to rinse fruits and vegetables, the spray function should be strong enough to clean them. If you need a glass of drinking water, the stream function should suffice. If you have dishes with morsels stuck on then, the blade sweep function can deliver a high-pressure flow to sweep the grease and dirt stuck on them.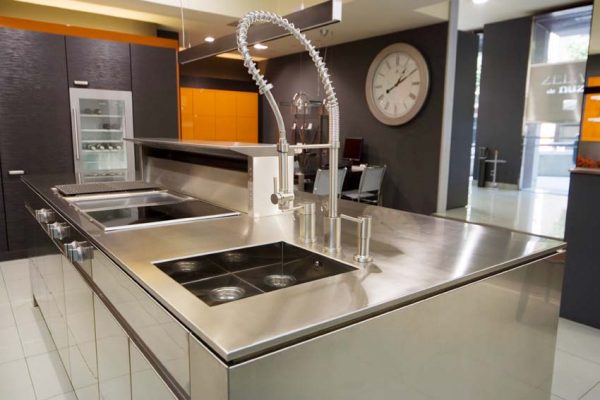 In The Design Studio: All the Things You Never Knew About Kitchen Faucets
We spend hours selecting our cabinets, countertops, backsplash and even hardware, touching and feeling and making sure it's just right. However, when it comes to faucets, the budget has been blown and everyone is exhausted making selections, yet there are so many of them to choose from.
Pull-down: Those are the larger goose neck type that has a sprayer that pulls down.
Pull-out: A bit more of a traditional faucet, lower to the sink with the spray pulling toward you, the clearance to the sink tends to be lower.
Commercial: Look of the large industrial faucets with a flexible hose for a sprayer. Those fit in a professional looking kitchen with modern touches. Pay attention to the size as they are big and can over power a small kitchen and a small sink.
Single handle: Some sort of a gooseneck with the spray on the side
Two handles: Can be on the sides of the gooseneck of a very traditional bridge faucet. Those pair nicely with a farm sink to complete the look.
Motion sensors: Gaining popularity, as people do not want to touch the faucet with dirty hands, those come in handy as well when you have people with limited mobility at the house.
Pot filler: Normally installed above the stove for ease of use of filling large pot for pasta and soup without needing to move the pot across the kitchen.
Bar: Those are usually a smaller version of the pull down, but without the pull down. We use then often in the prep sink area and not just in a bar setting. Beware that they are smaller, so maybe too small for the kitchen sink.
There is nothing more annoying than a faucet that leaks after a few months of use, or a pull-down sprayer that no longer pushes back into place and now just hangs there, making the faucet look broken and ugly. Look for brand names you know, with warranty, and parts that can be easily replaced if needed. Look for metal parts and not plastic — those will break easily and the finish will fade fast. Make sure the internal cartridge is metal or ceramic; unfortunately, most faucets at the big box store and some outlets are plastic and those will break very fast.
Care: Single-handle tends to be the easiest, as you just have one big spout to wipe and done. The commercial style will be a bit of a pain because of the coil around the top, which makes it hard to clean under it. Material-wise, most are well made these days and should last a long while. Most manufacturers will warranty the finish for a lifetime.
When you are done with your dishes, give the sink and the faucet a quick wipe and you are done. Do not use materials that will scratch the finish. If there is grime or a limestone buildup, use baking soda or white vinegar on a toothbrush to clean it out. A daily clean will help avoid those. Always use ammonia, bleach and acid-free cleaners — this is a good rule for all our kitchen surfaces.
What to Look for in a New Kitchen Faucet
TOUCH CONTROLS
Have you been considering a faucet upgrade? Some of the newer faucets on the market are pretty handy! They have touch controls on them so that all you have to do to turn on the water is touch the faucet. This is helpful when you are cooking or cleaning and have messy hands. Some of them even have nicer spray heads with magnets on them so that you don't have to worry about them coming loose and hanging down after spraying dishes or veggies
WHY YOU MAY WANT TO CONSIDER PAYING FOR QUALITY
We strongly suggest spending a little more money on a good faucet rather than the cheapest one. A better faucet will last longer and you'll enjoy it more. You'll have fewer problems with them and the warranties are much better.
Find the Best Kitchen Faucet
Hundreds of kitchen faucet styles, ranging from basic to posh, await your selection. We sorted the options to ensure you'll get the best tap your budget will buy. Review these faucet buying guidelines to help you find the right model.
Thoughtfully chosen faucets add pizzazz to hardworking kitchens. In finishes from shiny chrome to antiqued bronze, faucets sporting either low-arc or gooseneck spouts provide sleek to vintage profiles and patinas that complement new and old-world looks.
Kitchen faucets are activated via one or two levers or two X-shape handles or round knobs and are offered in configurations that might include spouts equipped with pullout and pull-down sprays, side sprayers, and soap or lotion dispensers. Some faucets are equipped with sensors that turn water on and off with a touch of a hand.
Installation & Operation
Installation varies, though most faucets are attached through holes cut into the sink. A deck-plate faucet's components are mounted on a single plate; other faucets' components are individually installed in up to five holes. In cases where it's difficult to cut holes in a sink deck, such as apron-style and undermount sinks, wall-mount faucets provide a stylish solution. When replacing a faucet, choose a model compatible with your sink's existing cutouts. Buying a new sink allows you to customize the number of holes to fit your preferred faucet.
Forms & Finishes
Once you've determined faucet type, it's time to consider form and finish. Bridge faucets, inspired by Victorian Era designs, connect the spout and handles on a raised bar; gooseneck or high-arc faucets stand tall to clean big pots; standard low-arch or straight-spout faucets work well with smaller sink setups. Check that the faucet is proportionate to your sink's size and that the spout reaches as close to a sink's center as possible. Remember that too-tall gooseneck faucets create unwanted splashes in too-shallow sinks, and low-arc faucets might need to be moved to accommodate cumbersome cooking gear

Types of Kitchen Faucets You should Know Before You Buy
With so many sizes and styles on the market, it can be difficult to choose a good faucet for your kitchen. So we've put together a list of the types of kitchen faucets to make your choice a little easier!
Single-Hole Faucets
The most common kind of kitchen faucet is the single-hole faucet. It's named for the fact that you only need one hole in your countertop to install it, and its simplicity is also reflected in its design.
Centerset
Also known as "two-handle" or "two-hole" faucets, centerset faucets have separate handles for hot and cold water that flank the center sprout. As you might have guessed from the name, they'll need multiple holes for installation.
Widespread
Widespread faucets are nearly identical to centerset faucets, but instead of having everything connected to a single base plate, widespread faucets come with individual pieces that are installed separately.
Pull-Out
Pull-out faucets are exactly what they sound like: Faucets that come with detachable heads that can be pulled closer to you with the help of a "hose" or "snake."