First-time buyer's guide to a typical home inspection
First-time buyer's guide to a typical home inspection
If you are a first time home buyer, you may be wondering what to expect from a home inspection. Home inspections are basically a part of the standard contingency for buyers so that they can be assured that their future home is structurally sound before moving in. However, many buyers underestimate the importance of carrying out a home inspection and making sure it is done correctly before finally signing the final contract. Though home inspections are supposed to protect buyers from buying a structurally faulty home, it is important to have a realistic expectation of what happens during a home inspection and what can be a possible outcome.
Choosing the right inspector
Choosing the right person to inspect your home is important. Make sure to check references before you finalize someone. One critical aspect of this is finding a neutral inspector, someone who doesn't patronize any of the parties and gives an authentic opinion. Sometimes if the inspector is not experienced enough, they may not be able to assess the magnitude of issues that a property may have in the long term. In some provinces inspectors are regulated, which makes a seller's job easy
Prognosis
A home inspector can give you a report card on what are the problems of a home and their seriousness. Mild warnings such as mildew may be indicated in their report. Generally, they would also do a detailed inspection of every nook and corner of your home, walls floors, etc. However, they are not permitted to break down any structures like a wall or beam to check pipes or leaks.
Why appoint a home inspector
While your real estate agent will try to close a deal as soon as possible, it is important to invest time and efforts in appointing a home inspector and getting a detailed review of your home. Only a home inspector can give an authentic report on the structural integrity of a home. Moreover, they can also give a futuristic perspective based on the present condition of a home. A home that has not been maintained correctly or is poorly constructed will have insignificant issues, which will eventually develop into bigger problems. A home inspector is likely to indicate serious problems, way before they become serious, safeguarding a potential buyer.
Generally, home inspections take around three to four hours depending on the size of a home. Inspectors examine both the interiors and exteriors of the home right from circuit panels to drainage to pipes and make a detailed report. Some of the parameters may be confusing for potential buyers and inspectors can easily address them to help a buyer understand what they are signing up for. If an inspector reports a critical observation, buyers can either back out of a sale, request resolving the issue from the seller or take the responsibility of solving an issue by themselves.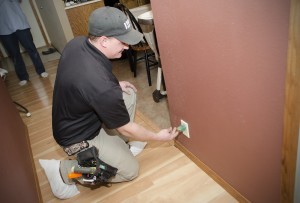 ENSURE YOUR HOME INSPECTION GOES SMOOTHLY WITH OUR HOME INSPECTION CHECKLIST.
ELECTRICAL
Check smoke alarm batteries
Replace burnt out light bulbs
Ensure electrical outlets and switches, including those in utility rooms and garages, are equipped with cover plates
Test GFCI outlets
HVAC
Have a qualified HVAC company inspect your furnace to ensure it's operating correctly and efficiently
Replace furnace and exchanger air filters if needed
ACCESSIBILITY
Ensure free and open access to all house and garage hatches. This will avoid re-inspection at the seller's expense
Clear spaces around electrical panel, furnace, sump pump, water heater and water softeners
Ensure closets and cabinets are unobstructed
GENERAL
Remove all pets from the property
Tighten loose doorknobs
What to Expect
The inspector will begin on the exterior of the home then move into the interior where he or she will test all components and appliances. The inspection typically lasts as long as 2 hours. Always let your inspector know beforehand if something is not working properly to ensure the inspector's safety and minimize the risk of damage to your home.
Don't be present during the buyer's inspection
Attending a buyer's inspection of your home could be perceived negatively by the buyer so it's always a good idea to leave the property.
When You Return
Check your thermostat, windows and blinds after the inspection. These components often can be difficult to operate, preventing us from setting them to their original positions.
WHAT TO KNOW ABOUT HOME INSPECTIONS
Moving on from renting an apartment to buying a home is a big step for anyone. After the first stage of looking around and finding a home that you actually want to purchase, see how you stand out among the crowd, you will then be required to put in an offer.
Before you do, however, you will want to make sure that the home is not going to require infinite amounts of money to fix up after you have already purchased it and moved in. This will require a home inspection; one that makes sure to complete your home inspection checklist. Here to ensure you know what is involved in this process is our comprehensive guide on home inspections.
MAKE SURE THAT YOUR HIRE A PROFESSIONAL
Having a home inspection costs money, money that you can't afford to lose because you didn't get the right person to do the job in the first place. Don't cheap out on a home inspector, their expertise is what you are paying for. You will want an inspector who has the proper credentials as well as some experience in the field.
Ask the inspector what associations they belong to, this is a better way that actually trying to dig into their qualifications. Once you know what associations they belong to you will get a better sense of their qualifications. (Hint, not all associations are equal, some require a minimum of training, experience, as well as educational requirements.)
And don't go for a home inspector that doesn't have insurance. Some will have limited liability clauses, what this means is if there any damages that occur during the inspection they will be off the hook. Here is an excellent guide for picking a home inspector. Keep in mind that choosing the right inspector is a critical aspect of a home purchase. You want someone who is thorough but also a good communicator.
Home Inspection Checklist
Real Estate Services knows that one of the most important tasks when buying or selling a home is to have complete inspections. It is always wise to make your offer contingent on professional inspections. Professional inspections can uncover areas of the house that need attention and can be taken care of before you sell or purchase a property. If something comes up that is serious, you can then have an out with your contingency.
This checklist will not replace a professional inspection, but will help you understand and uncover areas that may be of concern. This checklist will guide you through the basic inspections and help spot areas of concern before you make an offer or place your home on the market. Following the guidelines of this checklist can help you save money later.
Exterior
Grade
Grade slopes away from the house.
No standing water.
Homes at the bottom of a hill.
Water is directed away for the house.
Driveway
Driveway slopes away from the garage.
No large cracks.
No excessive weed growth.
No heaving or uneven spots.
No potholes or missing paver stones.
Drain at entrance of garage for driveways that slope down.
Foundation
Appears in good shape.
Foundation is above the grade.
Foundation appears straight.
No large cracks.
No crumbling.
No water stains or signs of dampness.
No moss or mildew growth.
Structure
Appears in good shape.
No rotting of the sill plate.
No missing siding or bricks.
Walls appear straight.
Roofline appears straight with no sagging.
Porch or doorsill appear straight.
Roof
Check from the ground using binoculars.
Appears to be in good shape.
No missing shingles or tiles.
Edges are not lifted.
No moss growth.
Shingles are not worn or torn.
Flat roofs should only be inspected by a professional.
Chimney
Check from the ground using binoculars.
Appears to be straight.
No large cracks.
No missing mortar between the bricks.
No missing bricks or stones.
Not separating from the house.
No black tar leaching on outside.
You may want the chimney cleaned by a professional before the sale of a home.
Eaves troughs & Downspouts
Securely attached to the roof.
No cracks or joint gaps.
No excess chalking.
Directs water away from the house.
Have not eroded away the landscaping.
Windows & Doors
Fit well in openings.
Open smoothly with no binding.
Hardware in working order.
No rotting or missing trim.
All weather stripping intact.
No missing or broken glass.
No torn screens.
Exterior doors are solid core.
In colder climates
Insulated glass in windows and doors.
Storm doors and windows.
Garage
Concrete slab with no major cracks.
At least 6 inch concrete wall.
Door opens and closes smoothly.
Garage door opener works.
Attached Garage
Door to house closes tightly.
Door to house is fire rate steel door.
Door to house closes automatically.
5/8 wallboard on ceiling and common walls.
Top Books and Resources for Home Inspectors
Many professionals improve their knowledge and skills by reading literature relevant to their field. As a home inspector — or a home inspector to be — you can find lots of helpful and valuable information in the books and resources listed below
It's exciting to embark on a new career, and it's rewarding to learn the material, take the exam, pass it and get your home inspector's certificate. But the learning doesn't stop there. You can find excellent tips, tricks, and advice in these books that delve into everything you need to know about a home's structure and systems.
Several are aimed more at the home buyer, in terms of how to select a home inspector and what to look for in a home, but this information is also highly valuable to the home inspector. You want to fulfill the expectations of as many clients as possible.
For our rating system, we considered the value of the information to home inspectors, comprehensiveness, and readability.