Things you should be asking your wedding videographer.
Thinking about having a wedding videographer at your wedding? Great! Here are a few questions you should be asking those behind the camera. For brides and grooms, weddings are a blur. Having a wedding video can make a world of difference. when you're looking back and reminiscing about your big day.
We often hear from brides, that the reason they got a wedding videographer was because someone close had mentioned that they regretted not having a wedding film made. Simple things like, how did I move in my dress? Did the groom cry? The details we spent hours deciding on. If a photo tells a thousand words, a film tells a million
Their experience as a team
First. What does the team look like? A make or break for films is the rapport of the crew. The first question, how long has the team been working together? But also, how long have they been filming weddings for? Weddings are different, they're one take wonders, no re-takes no repeats. So it's important you have a crew that comfortable with each other.
Reviews
A sign of a good wedding videographer is the way their previous couples talk out them. Do they have any reviews? If they do, things to look out for are. How emotive the review is, does it mention things like "it made me cry"? If it does, that really is the difference between a wedding videographer taking the time to create an emotive, provocative and personal wedding film versus one that simply follows a template and gets it out.
Timeframes
A wedding video just doesn't happen overnight, it takes a lot of work crafting a wedding film that personalised and unique to the couple. Wedding videos take between six weeks and 6 months to produce and there's a reason for this. Crafting a story, especially in film takes much longer than the time it takes to deliver photographs. From finding the right music to colour grading the footage everything takes a bit of time and it rightly should. It's your video and it should be perfect. So, the third question to ask is, how long will it take to deliver my wedding video?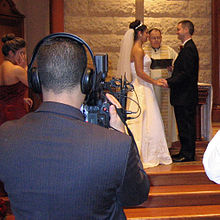 Should I hire a wedding videographer?
Tossing up whether or not to hire a wedding videographer? You're not the first couple. Here's the thing – it's a given that almost everyone generally hires a photographer for their day, but videography often seems like an afterthought. Something that would be nice, but isn't an essential.
Well, neither are flowers. Or professional hair and makeup. Or even rings (it's true). Beyond having an authorised marriage celebrant make things official (and of course, two willing participants), nothing is essential at a wedding. But for whatever reason, videography is often questioned.
One of the founders didn't have videography and one of them did. And guess who feels like they came out on top? Not the former. Yes, it would've stretched the already broken budget (which is the reason why she didn't go for it) but long after the day has passed and dress is packed away and the good times are a happy yet increasingly fuzzy set of memories, some footage of it all would be really nice. And it would last the test of time.
We've enlisted the help of the fantastic wedding filmmakers from The Story of Us to answer all your burning questions around pricing, drone footage, music etc. and to provide some clarity around the arguments for and against wedding films.
I'd like to just generally know more about videography for my wedding. Why have a wedding film?
Wedding films by no means replace photography but together they enhance each other and have completely different purposes for capturing your memories. It's the same as any story; think of your favourite movie. Looking at beautiful stills of the movie and watching the movie are very different experiences.
wedding Videography tips for Brides
It's your wedding day! Your dreams of the perfect day have come to fruition. Now the only task at hand is capturing these very special moments on your wedding video. Wedding videos like wedding photos last for lifetimes so it is important to always know what you want and what you are getting.
Apart from actually hiring your wedding videography and photography team there are some steps that you as the bride or groom can take to ensure that everything you want captured, will be. We have compiled a small list that details what videographers will need to fully capture your love story.
Find YOUR style of video
It's always good to watch different wedding videos with different styles of videography to be inspired for your own wedding film. There are many different styles to choose from. Do you want your wedding video to look more like a music video, or a short film with an element of storytelling?
Give time to your video and photo team in your wedding Timeline
Having a sufficient amount of time in your wedding day for couple portraits is key to creating a wonderful wedding film. It allows videography and photography teams to get the shots needed to create your beautiful love story without the disturbance of the craziness of the day. If you would like to see what a videographer and a photographer's ideal timeline looks like click here
Hire your wedding photographers and videographers from the same company
Team work makes the dream work! It's always great to have a team working together, rather than two different vendors who have their own different styles and visions. Getting a video and photo team that have worked together for awhile allows the team to create wedding photos and wedding videos that match in style.
Every Question You Need To Ask Your Wedding Videographer
If you're anything like us, you have a serious weakness for beautiful wedding films. (And like us, you may even low-key weep over your laptop every time you watch one). Nothing captures the emotion of a wedding day quite like a fine art film, and you will love reliving yours—and sharing it with your family– for years to come. But when it comes time to inquire with a videographer, how do you even know which questions to ask? We've got you covered, with every question you need to ask your videographer, and insights from some of the industry's finest filmmakers! Start imagining the slow-motion video intro of your dreams NOW
"Why is video so important?"
We can't emphasize it enough: as time passes, your wedding video will become more and more meaningful. Little keepsakes can bring back wedding memories, but there is nothing quite as emotional—quite as transporting—as video. When you meet with your videographer, ask them to explain why their art form is so important, and why you will treasure your video for years to come
"What should I budget for videography?"
Before you meet with your videographer, pricing may be the biggest unknown. As with any fine art wedding service, it takes a little education to fully understand pricing for videography, so don't be too shy to ask your vendor about their approach. According to Lindsay of NST Pictures, "Your video budget should be roughly the same as your photo budget. We often see couples with half the budget or less left for video because they feel it's less important than photos. We understand that, but it does take the same amount of work as photography: coordination of details before the wedding, two experienced videographers running around for 8-10 hours, top-of-the-line equipment and hours of editing your final films and footage."
"What sets your work apart?"
According to Julie of Elysium Productions, the number one question she wishes brides and grooms would ask is "what makes you stand out from other studios?" This question is so great because it gives your videographer the space to articulate her process and style, to speak with freedom and discuss her philosophy. In a sea of beautiful options, you want to know what makes your videographer unique—and if her work has that intangible 'something' you're looking for. Look for any electricity—any spark, any connection you feel to your videographer's words and work. While "couples should look for quality of picture and sound,"says Chris of Zen Film Works, the most important thing is "if the films wow them or move them emotionally." If you feel that indescribable, magnetic pull, then you'll know you are "onto a winner."
"I'd love to hear more about your career path! Can you tell me more about your wedding experience?"
When meeting with any videographer, you'll want to assess whether they have the ability to create the wedding film of your dreams. Ask questions about how long the videographer has been in the industry and how many weddings they've done. Pay attention to whether they respond to your questions with tangible examples from their portfolio. This kind of deep experience and skill set will make all the difference, and will give you complete confidence in your investment. "Experience is key," agrees Lindsay of NST Pictures. "You will keep your wedding video for the rest of your life so you want to look for a company that has a great track record. Read reviews, look for awards and see if they have any notable past clients." Be mindful also that with this rich experience comes a (justifiably) higher price tag.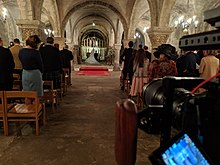 Wedding videography
Wedding videography can trace its roots back to before the invention of the modern video camera through 8mm and 16mm films. When film was the only way to capture moving pictures, a few enterprising individuals would take the family 8mm camera and film the weddings of friends and family. These film cameras had a major limitation in the form of 4-minute load times. After exposing 4 minutes of film, the operator would have to load a new film cartridge. The high cost of processing and the fact the majority of them could not record sound to the film further limited the industry. However, there were still a few individuals who were able to turn the documentation of weddings into a business.
The early days of professional wedding videography were marked by primitive technology and technique, with the equipment generally producing low image quality. Cameras required bright lights, had fuzzy pictures, poor color saturation, and single-channel, poor quality audio. The cameras were bulky, with a separate unit that connected to the video recorder via a cable, severely limiting the videographer's movement. In post-production, many wedding videos were not edited. Generation loss was also a limiting factor because of the nature of analog video tape.
In the late 1980s and early 1990s, the state of the industry began to improve. Videographers began to form regional and national organizations, the largest, currently active organization being the Wedding and Event Videographers Association International (WEVA). Manufacturers created a market between the professional video camera and video camera consumer levels, known as the prosumer, which met the needs of this niche market. Towards the mid-1990s, the manufacturers introduced digital cameras, removing the last of the technological barriers that had impeded wedding videography since it was established. The cameras were small, mobile, worked even better than the already good analog cameras on the market in low light situations, and allowed the videographer to be discreet and not an intrusion to the events.
Post-production creativity took a major leap forward with the introduction of advanced tools like the Newtek Video Toaster in the early 1990s. This led to the introduction of other relatively inexpensive non-linear editing systems (NLE), which offered the editor many more creative options. But the delivery method still relied on an analog viewing system, VHS video tape. This changed in the late 1990s with introduction of the recordable DVD. Weddings and events were now recorded digitally, edited digitally, and delivered digitally, greatly improving the image quality.
By the late 1990s, wedding videography had expanded beyond documentation of weddings. The majority of wedding videographers preferred to add the additional term of "event" to their description of service. New offerings, such as Love Stories, Photo Montages (a retrospective collection of photographs set to music), music videos, family biographies, anniversaries, Bar and Bat Mitzvahs, graduations, and many other one-time events were also being documented in large numbers on video. The general skill level of the industry's members improved and post-production capabilities reflected the standards of commercial productions.